On October 7th, 2009  a short news program aired here in the US on the Today Show, promoting the "tea cup" pigs that are being heavily advertised, especially in Great Britain and on the Internet, and now to unsuspecting, gullible people here in the US.  As is typical, the only pigs shown were tiny babies, and though adorable, by her own admission, the UK breeder said they'll reach knee high. Hello!!! That's the same size as many of the the current potbellies and only very slightly smaller than an average Kunekune. The tea cup pigs are a cross between potbellies, Kunekunes, Tamworths and another breed. They are considered a miniature pig, as compared to the farm type breeds, but they certainly aren't any smaller than the current miniature breeds available. Celebrities are buying into the story and purchasing these pigs and soon there will be another huge wave of inexpensive, over-bred, under-appreciated pet pigs flooding the market. Immediately after will be the tidal wave that hits the sanctuaries, who are still trying to cope with the potbelly situation. Teacup pigs are already flooding sanctuaries and being sent for slaughter in Great Britain and in the US almost every sanctuary has several.  In general, pet pigs are NOT suited for living strictly in a house and these so-called "tea cups" are no different. Very few have the temperament to be confined as many dogs currently are. They need stimulation and should never be crated for hours on end as dogs sometimes are. They need a lot of outdoor access and plenty of attention. They need the companionship of another pig and protection from the family dog. Please do not contribute to more of the same problems confronting unwanted potbellied pigs by purchasing a "Tea Cup" or "Royal Dandie" or "Micro-Mini Pig". The names are misleading and the unsuspecting buyer will likely be very disappointed when the anticipated little pig reaches maturity and weighs in at well over 100 pounds. They are nothing but potnellies and potbellies crossed with larger breeds. True animal/pet lovers will not care about the size, but too many uncaring and irresponsible owners will then discard their pet pigs like last week's trash. Responsible breeders will not perpetuate the myth of micro-mini and tea cup sized pigs and responsible pet owners will not let the actual size of the adult sway them in their ability to love and keep their pet pig.
Piggles, Rosie, Zoe, Zoey and Lucy ($3,000) were all sold as Micro-mini pigs.  Some cost $2500 and up, plus air to NY, only to be rehomed when the lies became obvious. sWilbur was starved almost to death in an effort to keep him small. For more truthful information about micro-minis, teacups and other pigs being promoted as very tiny pigs, go to WWW.TEACUPPIG.INFO   and GET THE FACTS!
We who are in rescue have no reason to lie about the true size pet pigs will become. The breeders, however, depend on the lies to keep the money coming in. If people do their homework and know the truth, many, if not most will not buy a pet pig. That would put the breeders out of business and they're in it for the money, not the benefit of the pigs.
Check out this video of a baby farm pig. Note how small he is and how large he gets. As a baby, he was almost as small at a "teacup" piglet! Baby size means NOTHING!
http://www.youtube.com/watch?v=GHEqJKcJ6-k
Here is an excellent news story written April 3, 2013. It is well written and well worth spending a few minutes to read. http://www.newtimesslo.com/cover/9287/this-little-piggy-was-controversial/
Here is a picture of a starving pregnant pig sold as a Teacup by TeenyTinyPigs. In this photo the starving pig is pregnant and lacking the nutrition required to produce healthy piglets. Her owner was unprepared for the stresses pregnancy would place on her but made corrections after a consult with a vet. This pig has now had a couple of litters and the owner has since made corrections to the pig's diet...updated photo below...which was taken June 25, 2014. It is good to see the pig in better condition. I've always wondered what became of her. So sad she's being bred, as we are flooded with unwanted and abandoned pigs in our sanctuaries, but it is good to see she is in better health.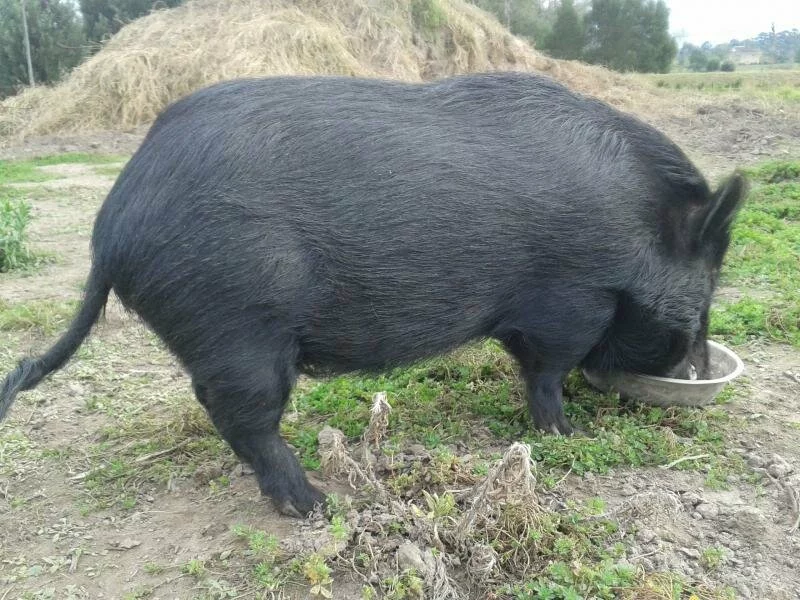 READ THIS BLOG!!!!!  http://thatminipig.edublogs.org/2012/05/... 
This owner has learned an expensive lesson after her purchase of a piglet.
And From Terry @Serenity Springs Sanctuary in COLORADO.... 
www.serenityspringssanctuary.org
https://www.facebook.com/
https://www.facebook.com/serenityspringssanctuary
THE ONLY TRUE micro-mini, tea cup, pocket pig is available online. It is a toy. You don't have to worry about them outgrowing the "so-called" 30# weight at maturity. . .which is 4-5 years of age and normally weigh anywhere from 60 to 150 pounds. . . if fed correctly. Some can be heavier. Few vets will see them. If you are shown the parents. . .keep in mind that a 9-11 week old male can breed and be productive with a female as young as 3 months of age Many cities do not allow them or have weight constraints that can't be adhered to. (I get many calls due to this factor) They are social animals and can become bored and if left in a house alone can be quite destructive doing such things as: rooting up rugs. . .removing wall paper. . .dump and eat plants. . .tear up and eat dry wall. . .open refrigerators and take out everything on the lower shelves. . .etc. ( I have personal experience along these lines.) They must have outdoor time and with that in mind. . .consider the fact that they do root and can re-landscape your prized yard. . .making it look as if the Iraq war was staged there. . .fox holes and all. Yes. . ..they may be the size of a cocker spaniel but the weight is not comparable.
Males must be neutered and females spayed. The intact boar is incorrigible. . .will stink and mount any and everything. The female comes into estrus every 21 days and can have a really bad case of piggy PMS that is intolerable. Also. . .if not spayed they are likely to develop uterine tumors. They are nothing like having a dog or cat. Most hate being picked up and many do not like to be cuddled. You can carry some around if held correctly but that changes early on as they become too heavy.. They are not recommended as a pet for families with very young children. Pigs have territorial issues and can become aggressive within a human family unit. . . as they will consider the family as their herd. . .and have been known to attack interlopers as well as some family members it may not have bonded with. RESEARCH. . .. GO VISIT A SANCTUARY AND SEE THE 'MICRO-MINI" pigs that didn't work out. THINK FOLKS. When adding any animal to your family you should do so as a commitment for that animals life-span. They are not disposable. PLEASE....BE A PART OF THE SOLUTION...NOT PART OF THE PROBLEM. If you keep buying from the breeders they will continue to breed and other unsuspecting folks will be caught in the trap. ALL animals should be spayed or neutered. Millions of them are "killed" yearly due to the irresponsibility of the human race.
Potbellied pigs do make good pets... but ...only for the right people...those that are willing to understand size and idiosyncrasies. There are miniature pigs but are considered so by being compared to the size of a commercial farm hop. Considering the amount of pleas for help and re-homing inquiries. . ..very few work out. There are a few sanctuaries that specialize in pigs and they are full and have a waiting list for "micro-mini" pigs. If you know and accept all of the above...please...please...don't fall for the line that they can be taken from their moms at 3 weeks of age...or anything less than 6-8 weeks. They should be able to pan feed and be on dry food prior to your taking them home.
READ THE FOLLOWING. SHE IS OUT HER MONEY !!!!!
In August of 2011, I paid over $2700 for a so called miniature piglet from a 'teacup' breeder in Texas. I was told I could hold him, harness train him etc etc. The pig became nippy, always looking for food and i was only able to pick him up with a net.  I then contacted Crystal from the Las Vegas pig rescue and also the Ironwood pig sanctuary in Arizona, only to find out there is no such thing as a teacup pig.  They are all mini pigs. I previously owned a pot belly pig that lived for almost 20 years, I should have known better. The guy I purchased this so called mini pig from said they are much different than the potbelly pigs, although I have now found out they are the same pig. I purchased this pig from Texas, buyers need to be made aware of these scams. The guy has the pig back now and my $2700. I cannot believe that I fell for such a scam. His contract even read that the piglets are not to gain any weight for the first month in your care for his "size guarantee" to be valid. How is it possible to keep a baby pig from gaining weight, short of starving him? I do hope nobody else gets taken by these criminals and that they realize that these so called mini, teacup, micro mini pigs etc are all potbelly pigs and will grow to be an average of 150lbs., they are only out to make more money! Buyer beware!  J.V., California           Dec 2011 
                    Miniature Pigs facts!!
              Visit Little orphan Hammies'
                           Hammicam
 http://www.youtube.com/playlist?list=PL196A5C2D70DA78E5  
  Best Friends response to TeaCup craze http://youtu.be/qHj3cQkmvsc 
thetruthaboutpetpigs-pigtruths.blogspot.com     
PIGS GROW FOR 5 YEARS!!! THE PARENTS THE BREEDERS SHOW OFF ARE USUALLY TWO YEARS OR UNDER AND NOT FULL GROWN THEMSELVES!!! JUST BECAUSE A PRE-TEEN HUMAN CAN DELIVER A CHILD DOES NOT MAKE HER AN ADULT. THE SAME IS TRUE WITH A YOUNG PIG MOTHER. SHE IS NOT FULL GROWN UNTIL 4-5 YEARS!
SCROLL DOWN TO READ COMMENTS and ARTICLES FROM THOSE WHO'VE DISCOVERED THE TRUTH THE HARD WAY!
Check out the following links for more examples of misinformation being  given by breeders. There is no end to their lies. Some breeders feel that we, in rescue, are the ones who are lying about the size of these pigs. We have nothing to gain by lying...the breeders make small fortunes by feeding off peoples' ignorance. They will lose easy income if people finally wise up! In the meantime, rescues are seeing an increased influx of discarded Micro-mini/teacup/royal dandie/pocket pigs who outgrew the promised size. In order to keep the piglets small the breeders will tell new owners, who often don't know any better, to feed tiny amounts of feed to the piglet. The result is an unhealthy, starving, ill-tempered/biting animal, not a true micro (or whatever you care to call it) pig.
http://columbianewsservice.com/wp-content/uploads/2010/03/Miniature-pigs.rtf
The link below is about micro Kunekunes, which recently have been promoted. Again,
          THERE'S NO SUCH THING !!!!! Kunekunes are LARGER THAN POTBELLIES!!!
                                             ALL PIGLETS ARE TINY TO START!!

http://www.bing.com/videos/watch/video/micro-pigs/uf5ijkxu?rs=Pig&from=en-us_msnhp&form=MSNHED&gt1=42007 
http://www.dailymail.co.uk/news/article-1324804/Grandmothers-micro-pig-Pigwig-grew-stone-hog.html?ref=nf
http://www.walesonline.co.uk/news/wales-news/2011/03/28/the-little-piggies-which-could-turn-into-a-big-problem-91466-28413747/
http://www.dailymail.co.uk/news/article-1327917/Epidemic-micropig-sales-grow-oversized-beasts.html
The following is a great audio interview by Dr. Valerie Tynes regarding pet pigs. Listen carefully to her very last statements!!!!
http://www.avmamedia.org/display.asp?NAME=Potbellied_Pigs
 Published on Friday 18 March 2011 08:53
It's heartbreaking to hear of an animal being marketed as the latest "must have" To those of us who have seen animals portrayed in this way before, it means only one thing, hundreds of animals being bought on a whim, kept in unsuitable surroundings and then abandoned when the novelty has worn off.
Up to a point, the general public has largely been unaffected by these crazes, we hear about them but then other things take over and they are forgotten.
However that all changed, when approximately 12 months ago, a farm animal with the potential of spreading a disease, that theoretically could wipe out the livestock of every single farmer and smallholder in the UK, was deemed to be the new "must have" pet and started selling in their hundreds.
The Micro Pig, a supposedly tiny pig is currently selling for up to a mind blowing £1,000 each. Marketed as the perfect family pet, the micro pig is a cross between pure bred farm pigs such as the Gloucester Old Spot or Tamworth, and a smaller pig such as the pot belly or Kunekune,
Size really does matter in this game where the majority of websites boast about breeding the tiniest pigs. Unfortunately, as it has been pointed out time and time again via forums and the media, what you actually end up with once the pig has reached adulthood, is as far removed from a tiny micro pig as you can possibly achieve, this however doesn't seem to stop the breeders who are churning them out as fast as they can to keep up with demand.
Although the size issue is bad enough, after all you pay your money and make your choice; there is a far more serious issue behind the selling of these micro pigs and its one that should concern every single one of us in the livestock business. Many of these pigs are sold to people who have has much knowledge and respect for the rules and regulations put in place to safeguard the nation's livestock, as a cardboard cut-out. Everyday there is new evidence of rules been flouted. Clips on YouTube and Facebook show people openly feeding their pet pigs in their kitchen, Photos of pigs eating banned products are placed on owner's websites and blogs, and there has even been a case recently of a pig living in a flat being fed sausages. Luckily for the pig, he has now been found another more suitable home. However this is far from an isolated case, every day many many micro owners are ignoring the rules and threatening hundreds of rural livelihoods.
However, it's not just the owners that are known to flout the rules. Recently one well known breeder was fined thousands of pounds for moving pigs, some of which were sick all over the UK without the correct paperwork, many into homes that are off the Defra radar. A worrying fact if there was another outbreak of disease.
Safety too is an issue. Some breeders are selling uncastrated boar piglets as pets into family environments, citing mutilation as a reason not to castrate. One woman with eight children, living in a suburb of London, is learning the hard way how a sexually mature uncastrated boar behaves. Unsurprisingly the breeder is refusing to take this aggressive boar back and sanctuaries won't touch it until it is castrated.
Defra, the National Pig Association and the British Pig Association have all been taken by surprise at the sheer number of people buying these pigs, and are overwhelmed by the problem. Recently a county council contacted the NPA as they were concerned at the number of people applying for CPH's in order to buy these pigs. In recent months Trading Standards have been inundated with people wanting advice on how to apply for refunds on pigs that have grown way beyond the owner's expectations. Not all breeders are happy to do this though and some are currently being taken to court.
Tem Sosa in Norfolk, is one of those people whose micro pig grew and grew and at one year old is nearly the size of a Tamworth. She is taking the breeder to court after they refused to give her a refund. She tells me "I bought Maggie and Martha on the 10th of March 2010. I was promised by the breeder that they would grow no higher than 14-18 inches high, they are now a year old and Maggie is 26 inches at the shoulder and Martha is 29 inches" Fortunately for Tem and her pigs, she has plenty of land in which they can roam, but £1,500 is a lot of money to pay for what turned out to be ordinary farm pigs. Similar pigs are fetching around the £50 mark at markets.
So what can be done, it seems not a lot apart from getting the truth out there and pressuring the authorities. Trading Standards despite having overwhelming evidence to do so seem reluctant - for reasons known only to themselves, - to close those breeders down who are breaking the rules.
Most people involved with animals are aware, breeding animals down is not as simple as breeding runt to runt, it takes a genuine knowledge of genetics and many many years of experimenting to actually come up with a small pig that breeds true to type every time. So until the next "must have" comes along, all we can do is hope that micro pigs are not a source of a major disease outbreak. In the meantime micro breeders are making hay whilst the sun shines.
http://www.gallowaygazette.co.uk/news/local-headlines/micro_pigs_putting_our_livestock_at_risk_1_1525307