MICRO AND TEACUP PIGS EXIST…FALSE. These terms and others are a means to part you from your money. Not once, ever, has a breeder or owner who boasts of having a healthy 35 pound adult (5 year old) provided proof of such a pig. Do not be fooled. Realistically you can expect a healthy adult mini pig to be anywhere from 70 pounds on up, with an average of 125-150 pounds. VERY RARE are healthy pigs 60 pounds and under and there aren't and adult 35 pound pigs to be found. Do not confuse the terms mini pig and micro pig. Mini pig is a class of pig and used interchangeably with potbellied pig to describe pigs smaller than the much bigger farm pigs. MICRO pigs DO NOT EXIST. MINI PIGS DO, and may weigh upwards of 350-400 pounds.
PIGS ARE VEGETARIAN…FALSE. Pigs are, in fact, omnivores. They are opportunistic and will eat whatever is available and appeals to them, including what they can catch or carrion. Domestic pigs have been known to snatch and eat poultry and small animals. People feed pigs a vegetarian diet but if living as nature intended, they will take advantage of whatever is available, including rodents, small mammals, snakes, eggs, etc. It is not advisable to feed them meat...not because it makes them "mean"...that is a myth...but due to the risk of disease. In some places it is illegal to feed meat to pigs. They are not, by nature, vegetarian. They are omnivores like us. If they discover that a good meal happens to be available "on the hoof", they will learn quickly to take advantage.
CHOCOLATE   IS TOXIC…FALSE. Chocolate is NOT toxic to pigs. Pigs can safely eat chocolate. In fact, some hog farms feed the cast off chocolate from candy manufacturers to their pigs. This doesn't mean it is a healthy choice, it only means it is not toxic. Too much can upset their stomach, as it would likely do ours.
GRAPES & RAISINS ARE TOXIC…Again, FALSE. They are toxic to dogs, NOT swine. Do not confuse swine diet with canine diet.
PIGS ARE SUPPOSED TO BE FAT… FALSE! Obese pigs suffer from the same health maladies as humans, including heart and lung issues and arthritis. They can also be blind and deaf due to fat deposits. Obesity is not "cute" and causes premature death.
      healthy                                            obese                                                morbidly obese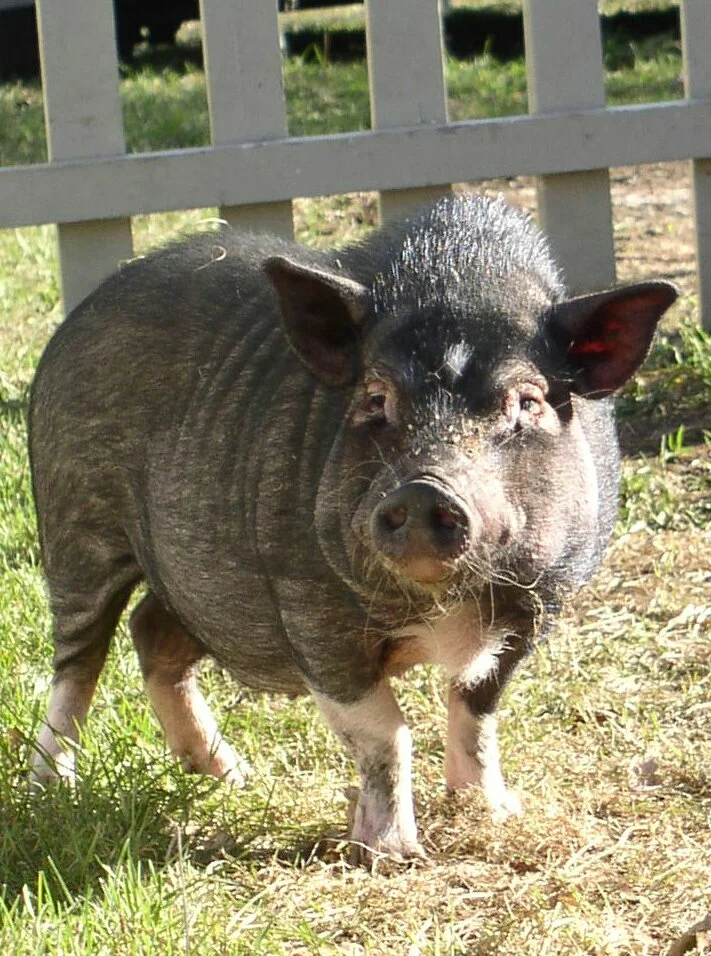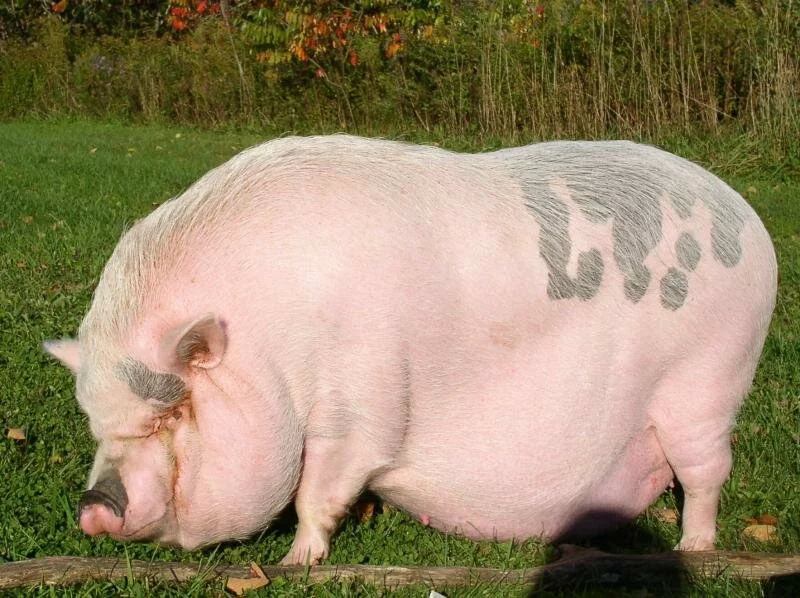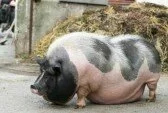 PIGS ARE IMMUNE TO SNAKE BITES…FALSE! Many pigs have died as a result of snake bites, including water moccasin, cottonmouth, rattlesnake, coral snakes…
PIGS DON'T SHED…FALSE. Pigs DO shed and some in a very dramatic way, called "blowing the coat", where the bristles may come out by the handful. This is perfectly normal and may occur at different times of the year.
PIGS ARE AGGRESSIVE…FALSE. Pigs are actually affectionate and "family oriented" by nature and live in family groups. They will challenge each other and their humans for the position of Top Hog. Once their position in the herd is established, peace reigns. That said, they WILL DEFEND each other, their babies and their space if threatened. Proper and consistent training is required for the human in the "herd" to maintain a position of leadership. Pigs will sense a weakness and take steps to become the leader.
Contrary to popular urban myth, wild boars do NOT randomly attack humans. They flee, knowing that humans pose a very real danger. Only when cornered or under attack do they retaliate.
THERE IS NO NEED TO SPAY OR NEUTER…FALSE! The behavior of intact pigs is one of the key reasons they are dumped. Both males and females behave in sexual manners and can cause injury. Boars have a powerful, offensive odor that clings to everything and tend to have only sex and where to find it on their mind. Containment of intact pigs can be difficult. When lusting after the opposite sex, many fences are ill equipped to contain them. There are health concerns, as well. Intact pigs have very high incidents of testicular, uterine, ovarian and mammary cancer and tumors. Uterine infections are also very common. They can be either opened and draining, or closed, in which case the uterus will fill and burst and the pig will die without surgery.
         mammary tumors             uterine tumor 103 lbs            uterine tumor 26 lbs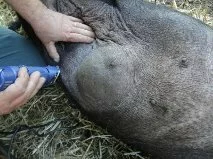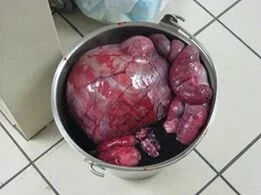 PIGS WON'T EAT TOXIC ITEMS…FALSE!! Pigs cannot always differentiate between toxic and non-toxic plants and substances. A pig may eat a toxic plant or mushroom, rat bait, chemicals, antifreeze, paint, cleaning products, soaps, even linoleum. It is IMPERATIVE that any area they have access to be "pig-proofed" just as it would be for a child…both indoors and out.
FEEDING MINISCULE, SMALL QUANTITIES WILL KEEP A PIG SMALL…well, this one is true, BUT, the pig will be starving and will have overall poor health, leading to an early death. It has been shown that starved pigs may have a small frame but their organs will continue to grow, outgrowing the space available, and they will die…usually by age 4 or 5. There will also be skeletal deformities and weaknesses. Photos of emaciated pigs…note their stances. Note also the gaunt faces, prominent spines, hips and shoulder blades.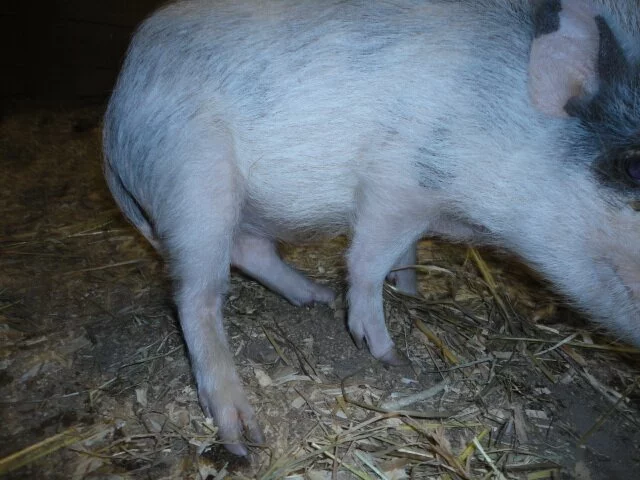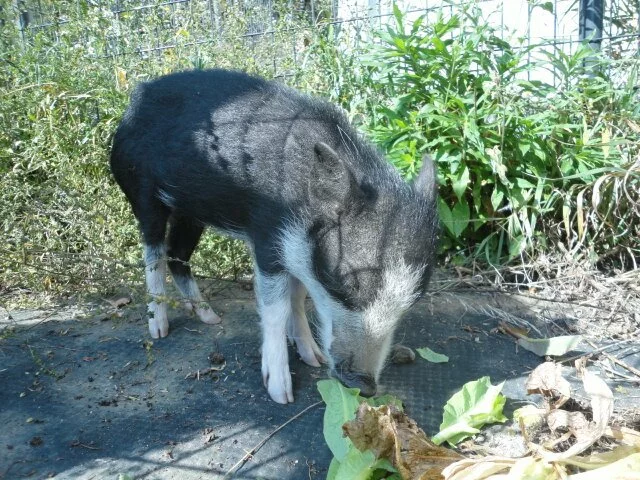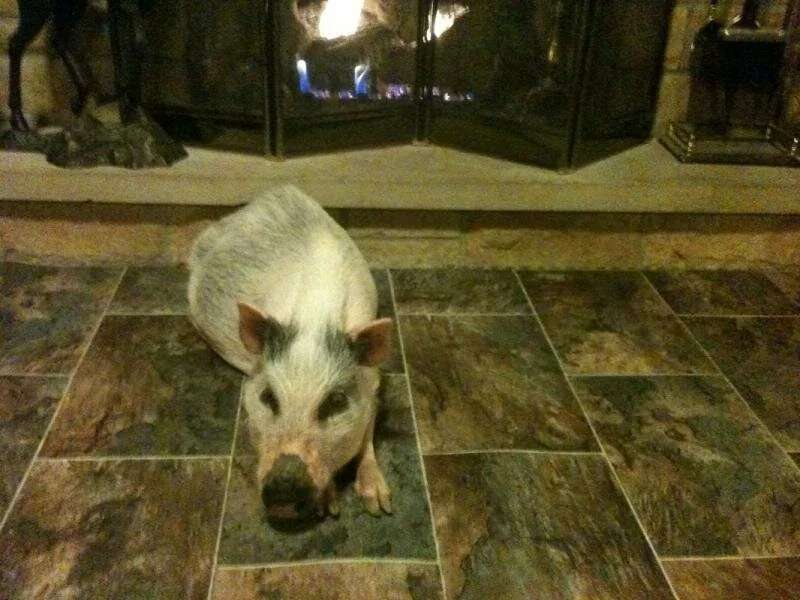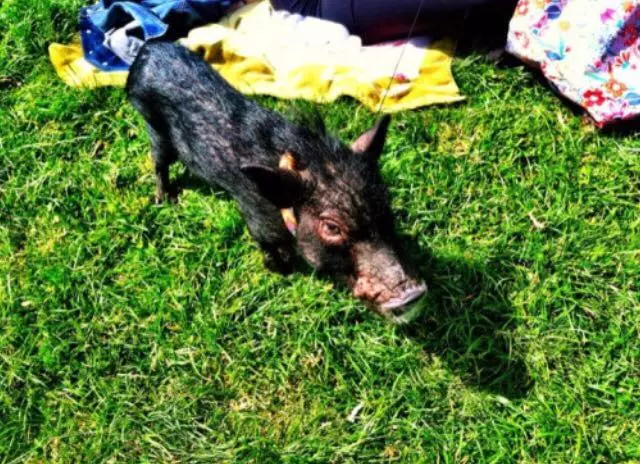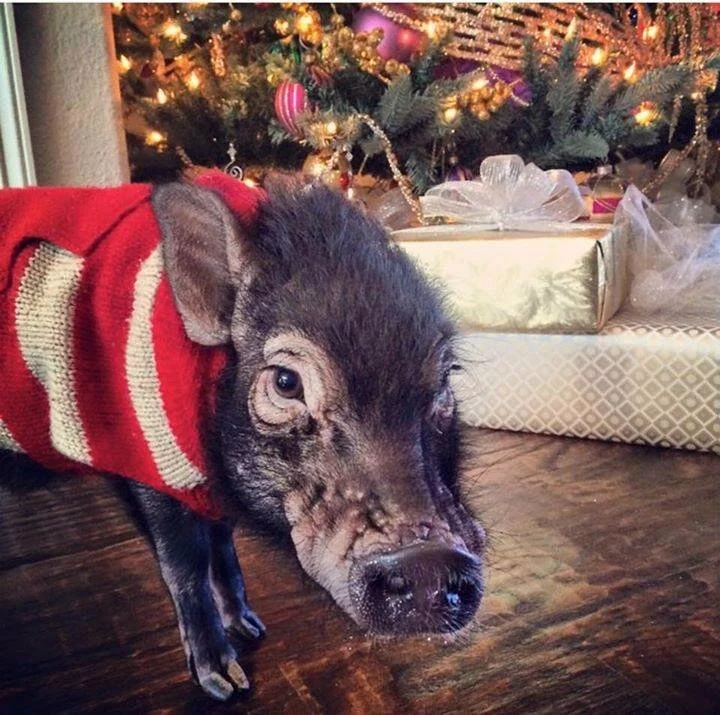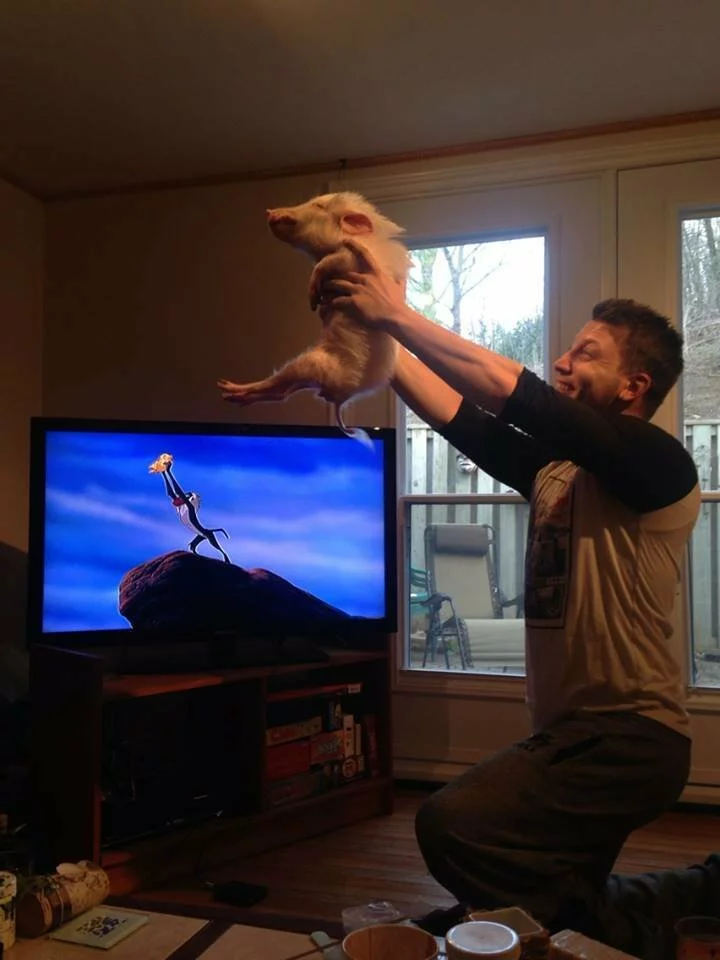 SINGLE PIGS CANNOT GET DISEASE/PARASITES…FALSE! Even if never exposed to other pigs, a single pig CAN become ill or infested with internal or external parasites. One example of serious, sometimes fatal illness is Erysipelas, which is a bacteria found in the soil. It can be carried by birds. Pigs can pick up parasites in the yard and may very well arrive from the breeder with an infestation. Regular vaccinations and parasite control are necessary.
       Erysipelas lesions            roundworms                   hog lice               severe mange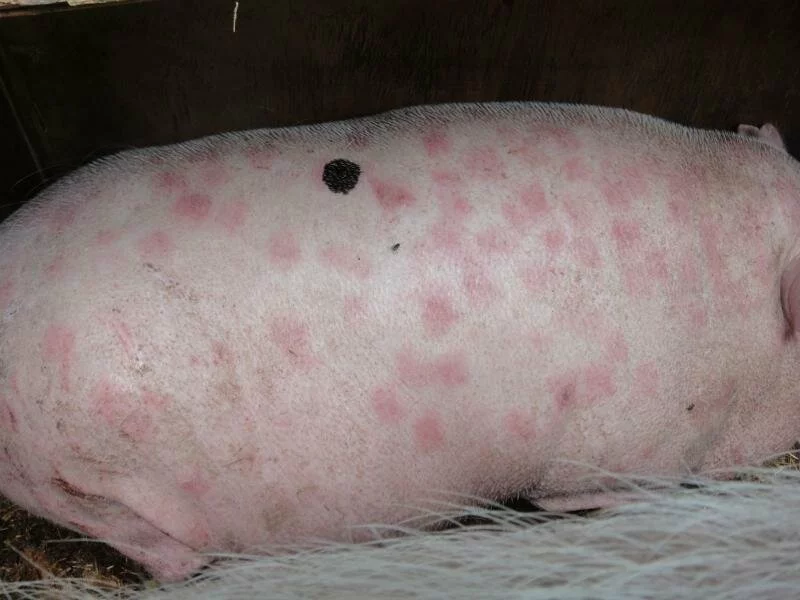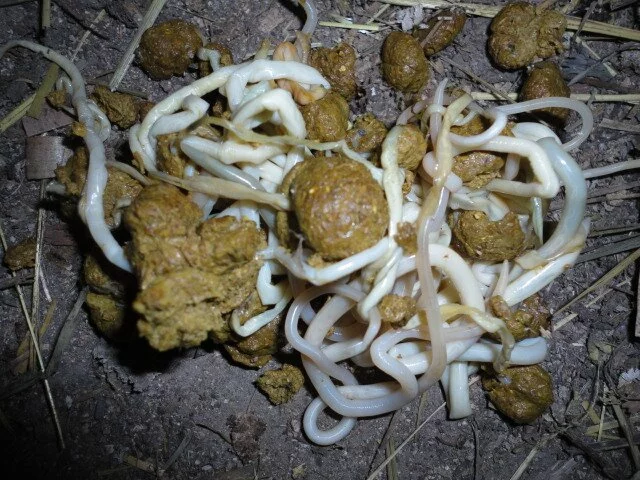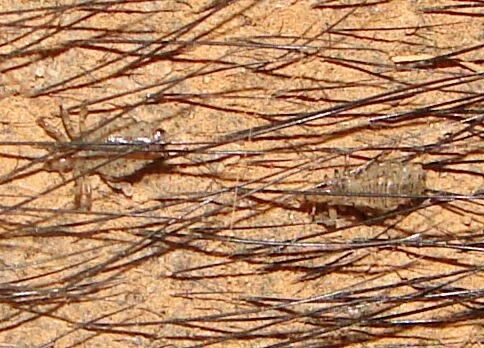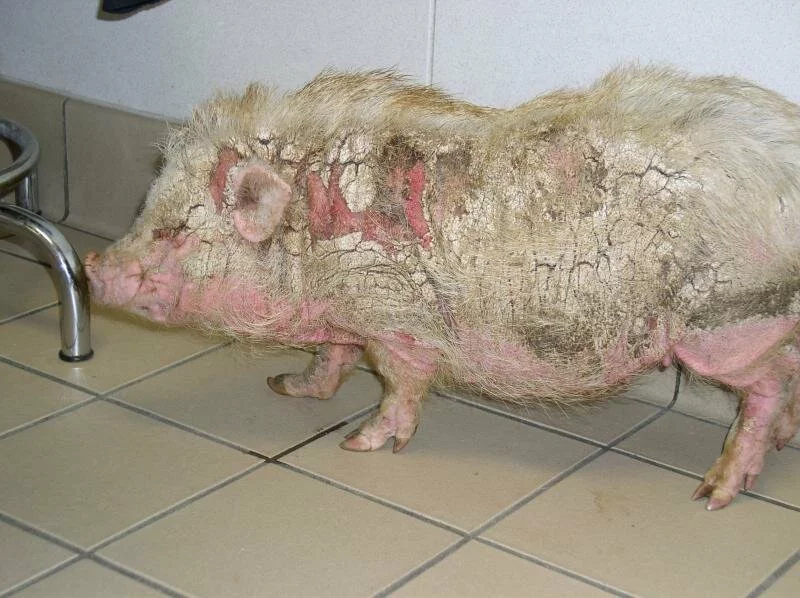 PIGS ARE DIRTY…FALSE. Pigs are actually very clean and prefer to be clean. If allowed, they will keep their toilet area well away from their food and bed. Mother pigs will teach the piglets to go well away from where they sleep and eat for their toilet. Close confinement and weaning way too early creates the house training difficulties many pet pig owners encounter. Prior to weaning as nature intended, the mother pig will teach the piglets all sorts of things that humans have difficulty doing. Regarding wallowing in mud, it is a way for the pig to cool off and apply a protective coat against insects. Many pigs will naturally have a "maple" odor. Others will smell like their bedding, whether it be hay or fabric softener from their blankets. Pigs do not have a distinct odor like dogs do. Numbers of pigs in close confinement, in unclean pens will smell, but that is the fault of the caretaker(s), not the pigs.
PIGS ARE DUMB FARM ANIMALS…FALSE! Contrary to what some may believe, pigs are ranked 4th on the intelligence scale, ABOVE dogs. They have the ability to problem solve, learn quickly, retain what they learn, and learn through observation. They can operate a joystick to "play" a video game, can manipulate latches to open doors, some have even been observed picking up dropped radio collars and carrying them to a feed dispenser to get feed meant for the pig who's collar they have in their mouth. They are easy to train and have a talent for training/manipulating their people. Their intelligence is comparable to that of a three to four year old child.