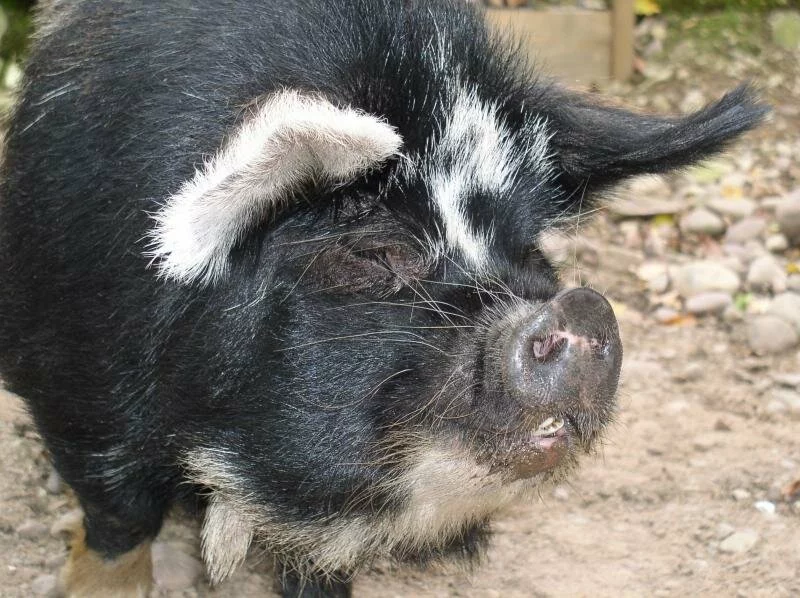 Talia
Kunekune pigs are a rare and endangered breed that originated in New Zealand. Their name means "fat and round" in the Maori language and they easily live up to that with pasture access during the summer. Kunes are grazing pigs and should have access to ample pasture or quality hay if pasture is not available. Their wonderful temperament makes them a great pet for owners with younger children, as well as petting zoos and children's areas in public zoos. They're much more easy going than an average potbelly pig and less inclined to become snappy. They've proven to be much easier to harness train, much easier to handle on trips to the vet clinic, and even quicker to learn to use a ramp when loading into the truck or trailer for a trip. They're naturally more trusting of humans and can't seem to get enough attention, often complicating outdoor projects with their close "supervision" or  tripping us up as we try to manuver around them in the pastures. They flop for belly rubs without even a touch and come running to greet all visitors. Kunekunes come in many colors including solid or combinations of black, white, red, ginger, and blonde as well as  different coat types...long, short, curly, wiry or smooth. Their coats and coloring frequently change as they mature. Their bristles are softer and more hair-like than other pigs' bristles. As such, they're more apt to break off when exposed to mud or rubbing on a fence or something similar. Kunekunes don't "blow" their coats like potbellies, but they do shed. Shedding is a natural process where the emerging hair pushes out the old one. They may have long hairs that form tassels off the tips of their ears, though these are often broken and easily worn off in the dirt.  Kunekunes are noted for their jowl tassels (called pire pire), though not all will have them. Some pigs may have one or none, some tassels may be long and thin and some the size of a pencil eraser and almost invisible under the hair. Ideally the tassels will be well attached to the jowl. Though tasseled pigs are rare, Kunekunes are not the only pig breed to sport this unusual feature. The Red Wattle Hog, Oxford Sandy & Black and Polish breeds also have tassels. Kunekunes are considered a miniature breed, but run a bit larger than an average potbelly. Most of our adults (over three years) weigh in at about 130-150 pounds, the size of our largest pots. Our largest Kunekune  is about 200 pounds. Some Kunekunes may weigh up to 300 pounds, but over the years the original breeder of our Kunekunes bred to produce a smaller pig. It's important not to get hung up on their weight because pigs are very dense compared to dogs and other animals. Our 125 pound pigs are about the size of a large cocker spaniel that might weigh about 50 pounds. As a rule, adult Kunekunes are about knee high to a human adult and three to four feet long from nose to tail. This delightful breed was almost extinct not many years ago and is still endangered, though gaining popularity around the world. Our pigs are pets only and our hope was that there would never be a need for Kunekune rescues as there now is for the unfortunate potbellies. But indiscriminate breeding will soon turn these delightful pigs into another "disposable" pet. Breeders are breeding them for slaughter and heavily promoting their meat and the meat of Kune crosses (aka "Pasture Pigs").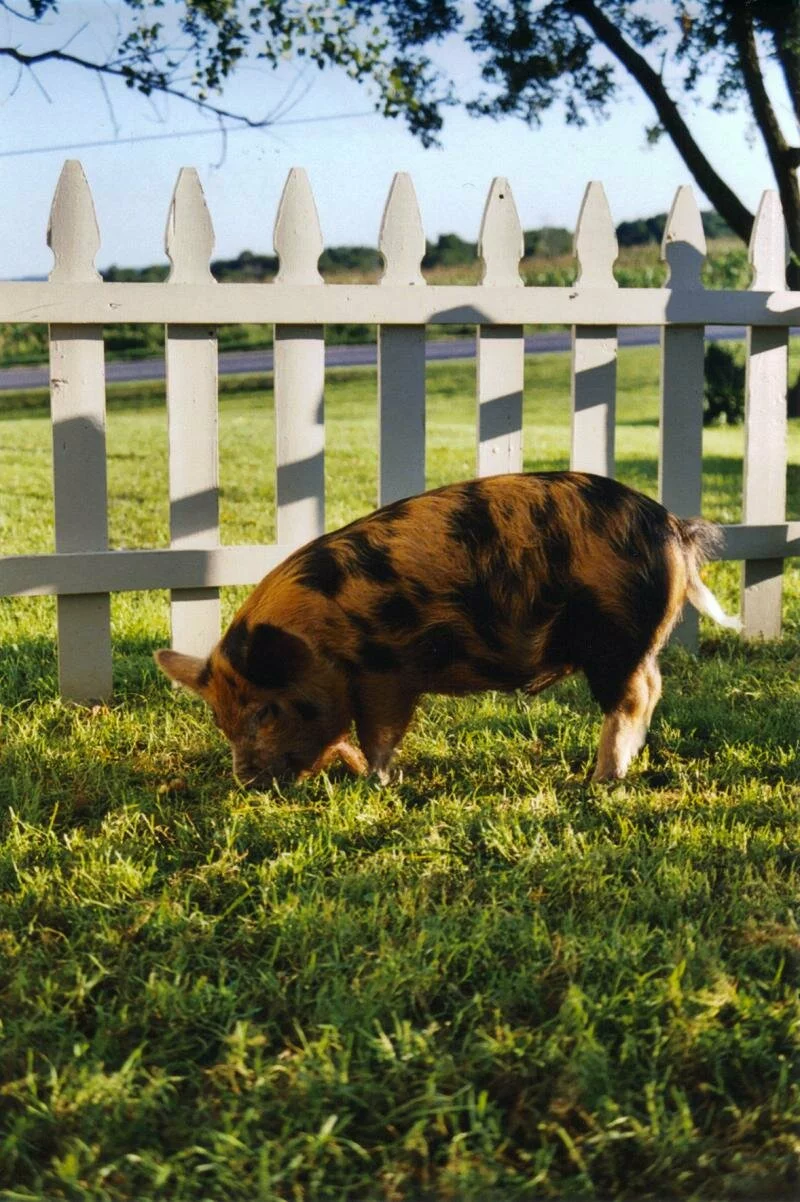 This is Ahurei, our first Kunekune, who arrived July 15, 2006. He was born January 26, 2006 and came  to us with a "friend", Bachberry Grunt, who moved on to live in northern Vermont, eventually needed rescue and moved to a FL. sanctuary. 'Urei is rather spoiled and much loved. At first he spent considerable time in the house, but now spends his days in the barn.
Though promoted as non-rooters, let me be the first to tell you that Kunekunes DO ROOT! Our Kunes have done considerably more damage  to their lots than the potbellies ever have, and will sometimes have their faces buried up to their ears in dirt!
Ahurei came to us from Katie Rigby in Kansas. Katie imported the first Kunekunes into the US...12 females and 4 boars. In 1999 she imported two more boars to further dilute the bloodlines and had been extremely careful to keep the bloodlines as far apart as possible when breeding. She also bred for a smaller pig, and most of the resulting Kunekunes are about the size of a large potbelly. "Tuffy" (Kahukara) is one of the first generations born in the US and was larger (about 260 pounds) than his more recently born relatives. Sadly, Katie passed away during the summer of 2015.