Be safe, not sorry !
Every consideration must be made to ensure the safety of your pig. It is no different than a toddler in its ability to find trouble and danger. To avoid a needless and senseless tragedy, the pig's area must be securely fenced and "pig proofed". Take the time to thoroughly scour the pig's area for potential dangers and remove or securely fence around them. Think AHEAD to prevent an accident rather than try to react to one that has already occurred or be forced to live with the knowledge that you could have prevented a needless death or injury with just a little caution, planning and preparation.
 The pig's area must be securely fenced with quality fencing to prevent escapes and access by predators, which would include humans intent on harming the pig or feeding it something they may not know to be harmful. In some areas a good lock on the gate may be necessary. There is no substitute for a good fence and the protection it offers. Lightweight welded garden wire is seldom durable enough for an adult potbelly and the newer, lightweight chain  link dog kennel panels are easily bent by an adult.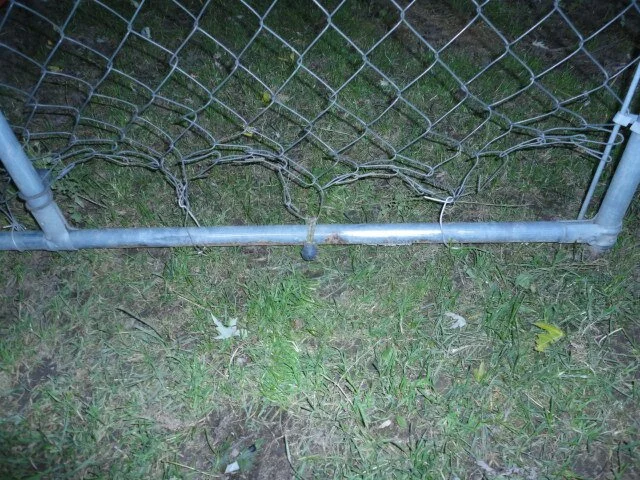 chain link is a poor choice
                 combo panel gates make a good pen that can be relocated as needed.
If you provide a pool for the pig to cool off in be sure that the depth is shallow enough for an easy exit to prevent accidental drowning. We use lids from plastic totes for tiny babies and gradually work them up to a child's plastic pool as they grow large enough to safely enter and exit. Pigs are usually good swimmers but that won't prevent an accidental drowning. And while we're on the subject of pools, NEVER allow your pig access to an inground pool or a swimming pool with a deck! Even if the pig has never shown an interest and appears to avoid the area, sooner or later tragedy may strike and your pig could fall in and drown. Just as you would fence around a pool to keep out small children, you must securely fence to keep out a curious pig. One slip and you may never forgive yourself for your lack of caution. Also, pails of water should never be used as a drinking source or be left within the pig's reach. For one thing, a pig isn't built to easily drink from a bucket. He needs a shallower non-tip dish or tub for easy access. A pig attempting to drink from a pail may slip in head first and drown, especially if the bucket has been tied up to prevent it from tipping. And never count on the pail tipping over and the pig escaping, even if it's not tied. Sadly, I once saw a young farm pig that had drowned in a pail of water. He'd escaped from his pen, found the pail and gone in head first. Another problem would be a pig going without access to water because he dumped the bucket while trying to drink. A continual source of fresh water is important to avoid salt toxicity.

 Scour all accessible areas for toxic chemicals and plants. Some examples to look for are yew, nightshade, oleander, ornamental plantings, anti-freeze and lawn chemicals, rodenticides or cleaning products. A pig can and will bite thru heavy plastic and even a metal can to access a perceived treat, so you must never assume that a tight cap is enough protection. All potentially harmful items must be stored in secure upper cabinets, well out of reach because your pig can easily rip off a locked cabinet door if there's something in it he thinks he should have. Store all pig, pet and people food (and medicines) above his reach as well. Your pig will overindulge and will suffer for several days.
 Electrical cords can pose an electrocution, fire or strangulation hazard. Never leave a cord where a curious pig might chew on it or become entangled in it. In the house beware of cords that may entangle the pig and cause a lamp to be pulled over. The same applies to computer cords and cables.
Heat Lamps If a heat lamp is used, be sure it is high enough to prevent bedding from being piled too closely and that it can't burn the pig. Secure it well to avoid it accidently being knocked or pulled down by the pig. Securely wire a metal strainer or mesh to the shield of the heat lamp, close enough that should the bulb become loose from the base, it will be caught before falling into the bedding below. Be certain that nothing combustible is anywhere near the lamp. We often use a simple 100 watt light bulb rather than a more powerful 125 or 250 watt heat lamp. Quite frequently that alone provides enough supplemental heat without the use of the hotter bulbs, especially in the large wooden crates we use in the pig stalls.
 Beware of heavy or dangerous objects that may be tipped over and fall onto a pig, such as cabinets, ladders, tool boxes, tools on unstable tables, hot food, irons and ironing boards, tvs, water, etc. What would pose a danger to a toddler will also pose a danger to your pig. Never underestimate their ability to find trouble.

 Check the pig's living quarters and fencing for splinters or protruding nails or wire that may cause an injury. Be sure fencing is secure enough to prevent escape by the pig or access gained by a predator.  Also, in many areas, pet pigs are frequently stolen right out of the yard or pen and eaten! Be sure your pig is protected from human predators, too! Beware of people with evil intentions who may poison your pig because of a disagreement with you. Keep him in a safe area when you're not home to supervise. Check his lot for broken glass, nails, etc, especially on an older property. After nearly 30 years we still find broken glass, wire and nails that work their way out of the ground.
 Check that there's nothing your pig can climb up on or fall into! Bradford's mother suffered a tragic, needless and terrible death when she climbed a pile of hay bales and fell headfirst into an empty barrel. Her owner was devastated when she finally found her.
 Every year countless pigs die needlessly from excessive heat or exposure to cold. There is no excuse for either. Always be sure your pig has access to a cool location and clean water for a drink and a dip! Never leave him in a hot enclosed, poorly ventilated space such as a small building, trailer or car, or in an area where there's no shade. Direct sun, even on a relatively mild day could overheat you pig. In some areas a water mister would be appreciated...or at the very least a fan. During the cold months be certain there is abundant bedding to make a warm nest in a dry, draft free location. Ears and tails can be frostbitten. Add a heat lamp if necessary, but ample bedding usually provides enough insulation to keep most healthy pigs comfortable. Remember, if you're hot, your pig feels even hotter and if you're chilled, he feels even colder.
 Kids 'n pigs 'n dogs all need close supervision when interacting. Any combination can be a bad mix and care must be taken to ensure everyone's safety. Because young children may be unaware of proper behavior around animals, they must be closely supervised to prevent them from unintentionally aggravating or hurting the pig.  If a child pushes or shoves the pig, it may interpret it as an act of aggression and retaliate by biting. Pig bites can be very serious and must be treated immediately. Never let a child pick up a small piglet, as they're quick to scramble loose and a dropped piglet may suffer a broken limb or back injury. A sitting position on the ground in a low lap is safest for all concerned and more comfortable for the pig, who then may choose to climb into the lap. Older children need to be closely supervised because they may intentionally (or unintentionally) tease or torment the pig. Be very aware of what your children or the neighborhood kids are doing when around the pig. Some children (and adults) are intentionally cruel and your pig must never be put in such a situation. You may run into the occasional adult that "knows it all" because he "had pigs before" and handles the pig too roughly. You need to protect your pig from such mishandling, though there may not be any negative intent on the person's part. Your pig will only learn to be distrustful of any new people.
 A pig should NEVER, even for a few minutes, be left alone with a dog...ANY dog...EVER. Pigs are prey animals and dogs are predators. No matter how well they may appear to get along, or for how many years, it can all change in an instant. A dog may severely injure or kill a pig and a larger pig with longer tusks may inflict a serious bite or kill the dog in self defense. Pigs often lose ears and even large areas of muscle to dog bites. One pig at a Florida sanctuary was attacked by a pitbull and its face crushed. Extensive and repeated surgeries saved it, but the pig should never have been injured in such a horrific way in the first place. Well socialized pets and well behaved children rarely have conflicts when well supervised! I personally would not let a pig go to a home with large dogs, especially those such as Akitas, rotweilers, pit bulls, German shepards or others with a high prey drive. One nearby rescue had a horribly disfigured potbelly that was injured by a Rotweiler. Her injuries were nearly fatal and the muscles from the back of her head and front of her neck are gone. She was terribly disfigured and very lucky to have survived. See photo of "Venus" below...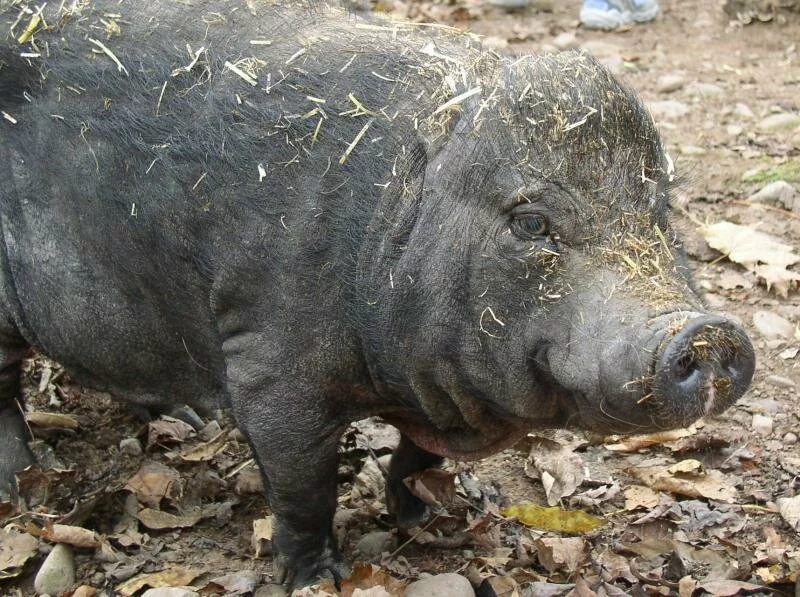 THIS DIDN'T NEED TO HAPPEN !!!
 ...NOR THIS !!!!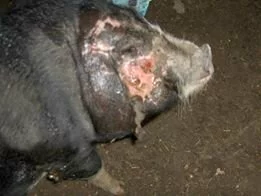 This pig was attacked by dogs.
I have also had inquiries (many) near the beginning of the school year where ignorant youths (or older) look for a "mascot" for the football team. They're dismissed with little discussion. No responsible breeder would even talk to them. The same rescue with the potbelly disfigured by a dog also had a sad little pig who was tortured by college students. Her ears were cut off and she was burned. Perhaps when those students reach their final destination, the same will be done to them. One can only hope.
   IF YOU NEED TO REHOME YOUR PIG...
                     BEWARE!!
The following was posted to a rescue list on 5/13/11
 There are cruel people who will be happy to take your pig!!
  Read the following link if you have any doubts as to the lengths some will go to torture a helpless animal. Do not let this happen to your pig!
http://www.tcpalm.com/news/2011/may/12/indian-river-mother-daughter-charged-with-animal/?partner=android_share
There are places who promote themselves on FB and with websites as sanctuaries who, in fact, are looking for free pigs for slaughter. Established sanctuaries know of each other, have visited each other and can vouch for each other. We are open with information about who we are and what we do. Before placing a pig with someone you don't know it is CRTICAL, for the pig's safety, that you at a minimum get referrals and references from several reputable sanctuaries who can vouch for the one you're considering. It is all too easy to set up a website, call yourself a sanctuary and take in pigs from the unsuspecting, only to slaughter them. Don't let this happen to your pig!
Also, not long ago about 400 pigs were gassed in trucks in FL. They were at a "sanctuary" who held them in deplorable conditions, starved them and allowed uncontrolled breeding. On top of that they were pseudorabies positive and instead of obeying a strict quarantine order, this operator took in and adopted out pigs and allowed rampant breeding. As a result, the pigs there could not be relocated. Instead they were loaded onto trucks and gassed to death on the way to a landfill. Many unsuspecting people sent their pigs to this death camp. Many kind hearted, generous individualls sent money and donated feed and fencing in an attempt to save at least some of the pigs. But when the population is allowed to grow to nearly 400 and the operator is unwilling/unable to see a problem, it is an impossible task, no matter how many helpful people are involved.
Transporting

your pig safely is critical and being able to transport to a veterinary clinic can be life-saving. NEVER transport the pig in the back of a pick-up unless it is securely crated and the crate door locked shut with zip ties or a ratchet strap and securely strapped down to prevent sliding. Even a small potbelly can push open a crate door, escape, and jump from a moving vehicle. Larger pigs may even crack the plastic carriers in an escape attempt or panic. DO NOT trust that the window(s) of a vehicle or truck cap will stop a determined pig. They can easily break a window out and escape from a moving vehicle onto the highway, likely to their death or at a minimum serious injury. Often the escape goes unnoticed until the driver stops for gas or arrives at the destination and the pig is never found. Pigs being transported require extremely secure crates or cages to ensure their safety. Also beware of the temperature. If over 60F or so the pig should be transported in a vehicle with air conditioning or a well ventilated stock trailer with damp bedding or ice. An enclosed cap on a pick-up or even a regular stock trailer (especially a dark colored one) will get extremely hot on a sunny day, putting your pig at risk for heat stress. Your pig might be dead on arrival and you won't even know he was in trouble. I secure a remote thermometer in my stock trailer at near pig level and monitor the temp for the pigs as I drive. Placing a wading pool with ice cubes in the trailer will give the pig something cool to lay against and a water source as it melts. Anticipate stalled traffic and the heat rising from the blacktop. If transporting in the back of a pickup, there will be signifigant heat radiating therough the bed of the truck from the exhaust. Plan for possible breakdown and carry lots of extra water and a water pan for emergencies and a mister bottle to spritz the pig(s). Plastic cat litter jugs work great to carry water. A couple could even be frozen to provide cooler water on long trips.Transport is safer at night during the summer if you have a long drive. Double gates are a good security measure in trailers, as a quick pig can be out an opened door in a heartbeat. My stock trailer is equipped with sturdy interior mesh panel doors with welded angle iron frames. The escape door at the front has one and in the heat I can lock open the solid door and drive with the mesh gate exposed for better ventilation. The rear slider door is also equipped the same and I can travel with the rear slider open up to half the width of the trailer to allow full ventilation and a strong breeze when traveling...or stopped for breaks. The solid divider has a mid-section removed and a steel mesh panel welded into place to allow for good ventilation. If I need even more air movement, the divider is attached against the wall and a combo-panel pipe gate used in its place. The addition of these extra welded panels at the doors makes the trailer more secure as well, helping to prevent a pig from escaping if I stop to water or check on it. Of course the panels are high enough to prevent a pig from jumping out if I travel with the solid doors open. One can never be too safe, too careful, cautious, or plan too much when it comes to safely transporting. For long distance transports it may be a good idea to take along a few 10'-12' combo panel gates that could be chained together in an emergency, should the pigs need to be offloaded. They can also be used to create a chute to help with loading or unloading. They are lightweight and easy to handle.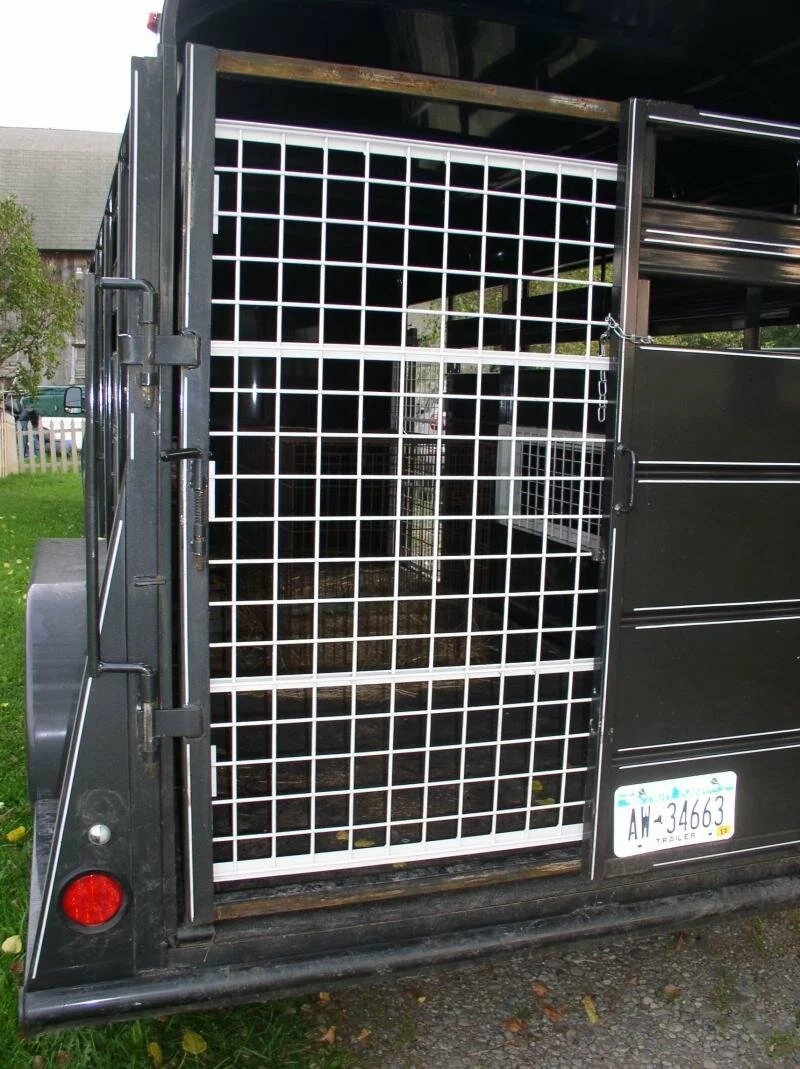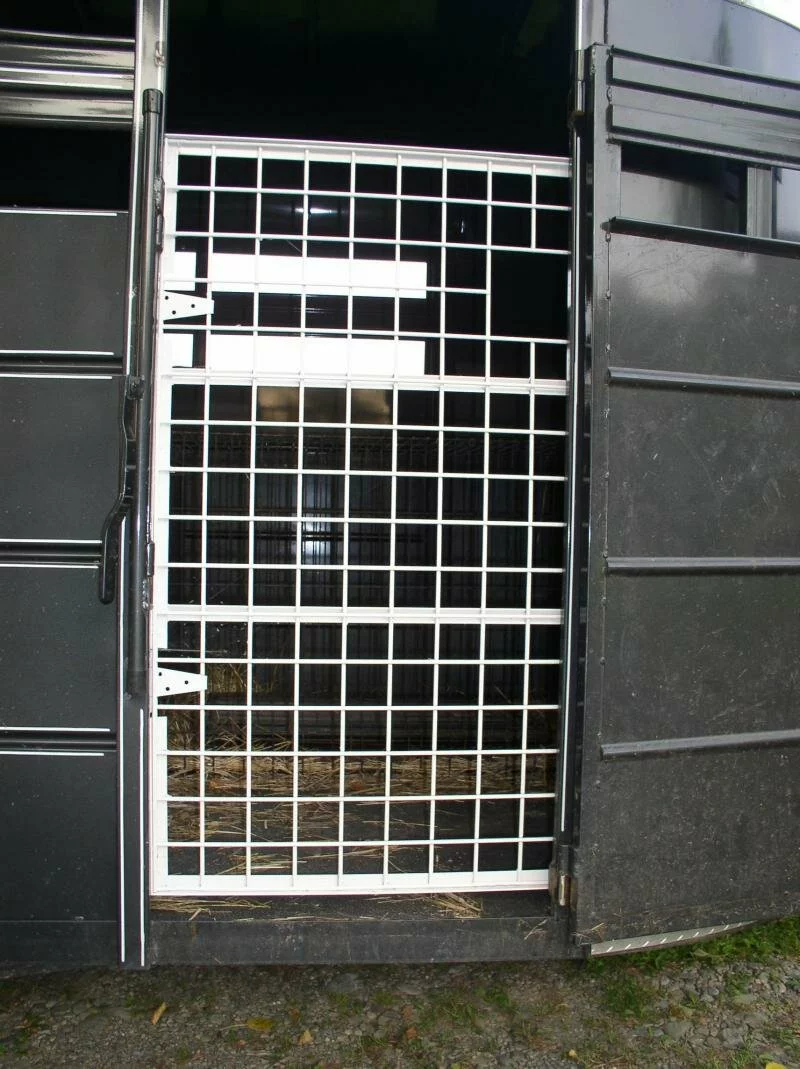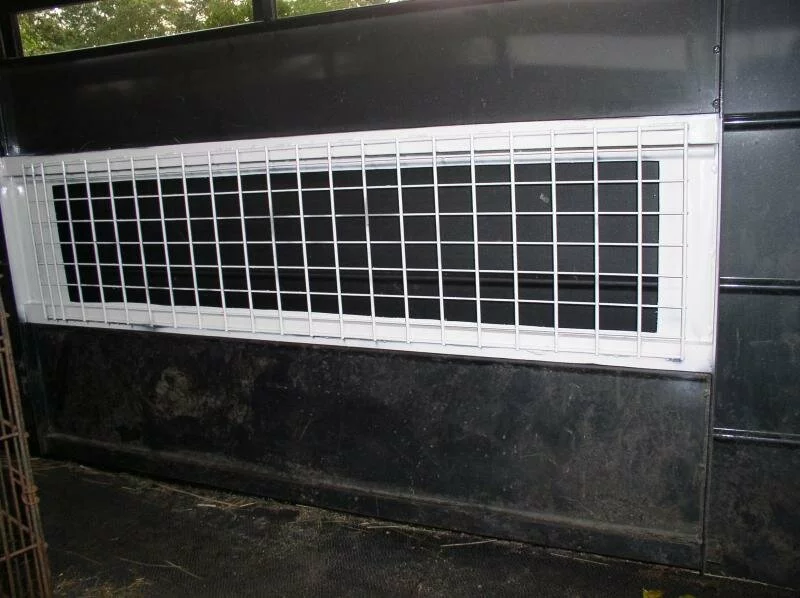 This is only a partial list of potential dangers to your pet pig. As you survey his area, you may find many more items to be addressed. It is far better to err on the side of caution than to forever regret not taking the proper measures to protect your pet from potential harm.
  Again, BE SAFE, NOT SORRY !!!