Video...who we are
 https://youtu.be/_w7N05JmxAM
Camp Skipping Pig is a privately owned sanctuary/rescue for unwanted pet pigs. Our pigs have arrived from many differing situations and for many reasons. Almost all were in dire need of a new home before they arrived, and all have been welcomed, even after I'd exceeded my self-imposed limit many times over. Of over 60 pigs, only a very few were actually purchased...over half are rescued potbellies who were no longer wanted, or their people moved, divorced, and couldn't or wouldn't take responsibility for them. Some are here due to financial, emotional or health issues of their former owner(s). I'm always saddened and amazed how once beloved pigs are quickly forgotten and never checked on by their former people. Of all our pigs, only two owners  ever contacted us to check on their pig(s), contribute to their care or donate blankets. Every pig has a story and some will be shared with you on this site. All of our pigs are loved and appreciated, no matter their breed, disposition or history.  Some have sad stories, but happy endings, and we'll do our best to keep it that way.
  We are not a non-profit, though we are VERY non-profit! My hope is to make this site interesting, informative, educational, and a resource for pet pig owners and "wanna-be" owners. Some of our rescued pig photos (Swilbur, Jack & Jill, Hannah and Tooey) may be disturbing to view, but they paint an honest picture of what happens when the wrong people own or breed pigs for pets. I'm hoping people will take this information to heart and begin a trend of standing up to irresponsible breeders and standing up for the innocent and hapless pigs they produce. Just as there are puppy mills, there are people mass producing and irresponsibly breeding miniature pigs. Do not spend your money on a "micro mini " or "tea cup" pig!!! They don't exist!!! UNTIL such time as there are no pigs needing placement, there CAN BE NO responsible breeding. NONE.
Look at the pictures on the sites promoting them! They're tiny babies, with very "baby-like" features.  Some still have the umbilical cord stump. Do they ever show an adult? NO! An adult "tea cup" or "micro-mini" would look like an adult of normal size...same features, just much smaller. Please DON'T  buy into the myth that any pig will be 35 pounds at maturity! It won't!! We have several "micro-mini" rescues that are a healthy 130 pounds or more. Bugsy was purchased as a micro pig and stands well above my knee and weighs in at a very healthy 250 pounds. And when yours  gets "too big" for your taste, will you  expect someone else to give it a home? There just aren't enough homes out there for the number of pet pigs being produced and sold to anyone that comes down the road. Your pig can grow for 3-5 YEARS! Be a responsible person and educate yourself before buying or adopting a pet pig into your home. Learn all you can about their needs, temperaments, behaviors, sizes, illnesses and more. Find a vet BEFORE getting a pig and know that you can afford its medical care. Don't get a pig on an impulse! And don't ever buy from a breeder who doesn't inquire as to your ability to care for, house, and provide a permanent home for the pig, or one who says it will be a small size OR one who says you must use their feed and/or sign a contract that the pig will not exceed certain weights at certain ages. Breeders are in it only for the money. There are countless pigs available and needing homes in shelters and rescues...even piglets. There will certainly be one available AFTER you've done your homework and prepared yourself for life as a pig "parent". As "they" say, if you're not part of the solution, you're part of the problem.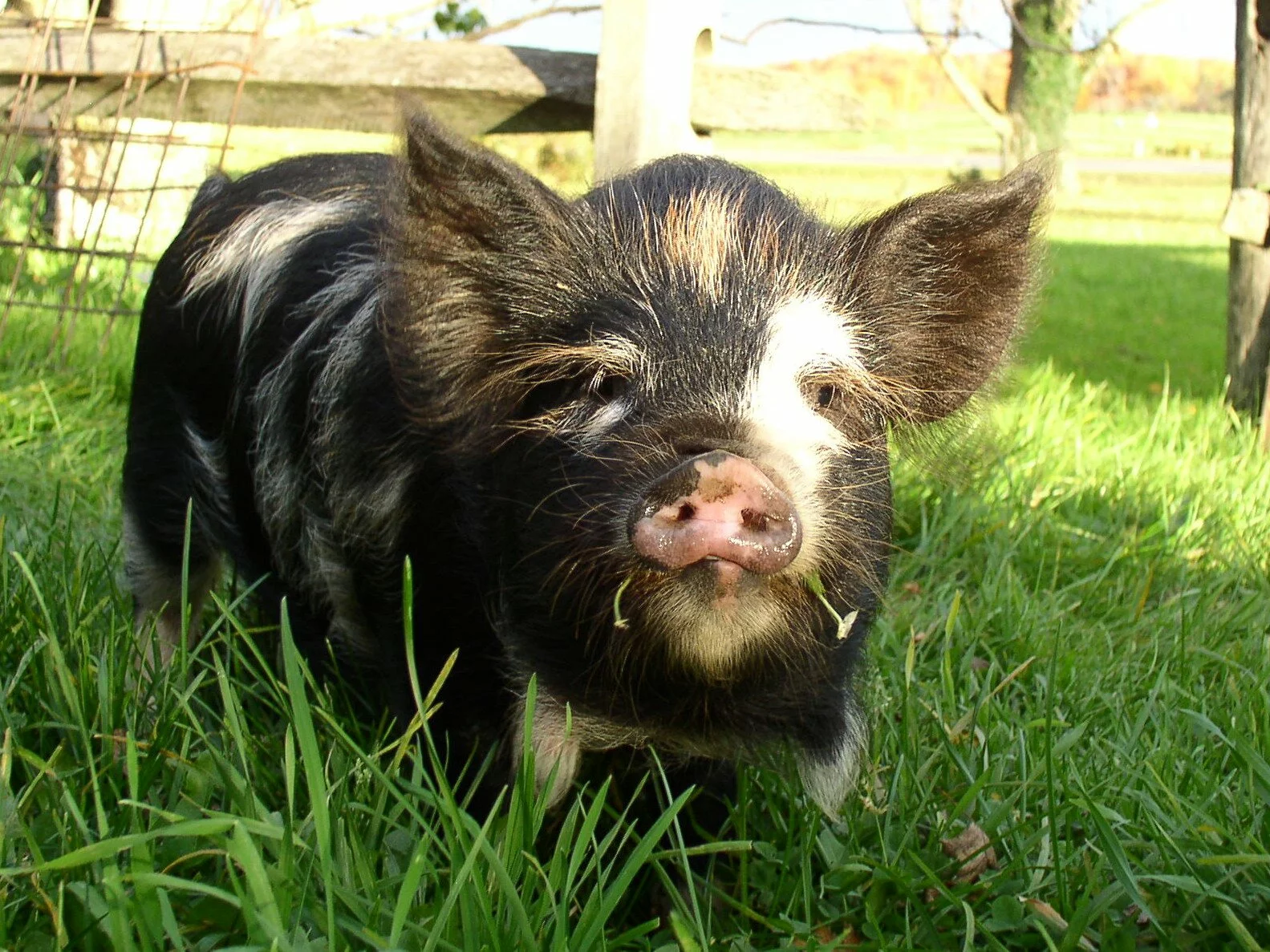 'Cilla

   As much as I adore my potbellied friends, they are terribly over-bred, inbred, misrepresented (esp. size) by breeders who give them tantalizing names that mean nothing, They are misused and abused, misunderstood, and too readily available as an impulse purchase for ill prepared people who think they should have a pet pig. As a result, countless pigs meet tragic and cruel ends, and the existing rescues, sanctuaries and SPCAs are overwhelmed and unable to help the innumerable pigs in need. My goal with this website is to provide honest, useful information about pet pigs for responsible, caring, capable homes and they be appreciated as a pet, never pork. Read the stories of some of our rescues and learn a bit about pet pigs as you consider if a one might truly be the pet you've been waiting for. Be honest with yourself about your ability to house and care for a pet pig before you make the commitment, because re-homing an adult pig is extremely difficult, if not impossible. Most often pet pigs are abandoned at about two years old or once they reach their full size and are no longer "cute" in the owner's eyes. About that time they also start trying tobe the dominant herd member and may bite and become aggressive. It's estimated that 90% of pet pigs lose their home by their second year. If you love pigs but are unable to have one of your own, please consider sponsoring one or two at a rescue or helping a local SPCA prepare an area to house and care for unwanted pet pigs away from the dog kennels. If you live near a rescue, almost certainly your help would be appreciated for a day or two a month. There are always stalls  and pens to clean, fences to build and mend, general maintenance work, and at the very least, belly rubs to give. The rescues need all the help they can get and there are many to choose from! Donations ranging from financial to treats and food to lumber and individual talents are always appreciated! Even a roll of stamps or old towels and blankets are a help. If you do decide you MUST have a pet pig please be sure to adopt one from a shelter or rescue and do not support the many breeders who are in it for the money, not the love of the pigs. Too often their piglets are inbred and unhealthy (read Jack and Jill's story), and they're willing to sell to anyone who puts up the money without researching the prospective home first. If you can manage two and are determined to buy a baby, please think about at least adopting a companion pig from a sanctuary. Two is better than one. In addition, BE VERY SUSPICIOUS of any breeder promoting  "teacup" or "micro mini" pigs. There is no such thing! If you pay attention, they don't show photos of adults, only adorable NEW babies.The parents are not even full grown (4-5 YEARS). They're usually very thin/skeletal. Pigs should NOT have angles or "points". Beware of breeders who don't care enough about their pigs to ask for references or take the initiative to check out prospective buyers. Don't buy at a flea market, out of a car in a parking lot or from any breeder who willnot allow you  to come to the farm. Before you buy, do your research and know what you're getting into! Pigs are wonderful, intelligent, affectionate and sensitive creatures, but not an ideal pet for everyone. Don't find out too late for yourself and the pig that it's not a good match for you! On another note, if your pig is coming from out of state that all required paperwork and blood testing have been done. Ask your veterinarian to contact your state vet and GET IN WRITING the requirements for bringing in a pig from out of state. Be sure the seller has complied with all regulations to avoid any unpleasant surprises. Many breeders fly piglets all over the country and the airlines do not check the state regulations. Be certain the shipper has complied with your state laws, and again, get the regulations in writing from the state veterinarian. On the phone a variety of answers are often given in response to the same question. It all depends on who picks up the phone.